AND SO IT GOES!
You probably received my note last month with the quote 'the only constant is change' and wondered 'What is David doing now?'  Well, I am excited to announce that I am joining the Panel of Neutrals at Henning Mediation & Arbitration Service. As you know, mediation is my passion, and I have been transitioning to it with Zacks Resolution, LLC. 

When Henning approached me with this opportunity to join their Panel, I felt they could provide an excellent base for me to conduct mediation and arbitration for you and your clients.  I am also certain my experience in healthcare, personal injury and general business will be put to good use there.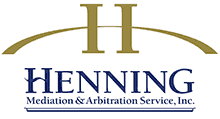 "We are very excited to have David Zacks join our Panel of Neutrals. With over 45 years of experience as a litigator and mediator, David is a perfect fit for our mediation model. We all feel his affiliation with Henning will enhance our position in the dispute resolution market and allow David to take his mediation practice to a whole new level."  
Richard Colley – President  
Henning Mediation & Arbitration, Inc.
You may still reach me for mediation services at (404) 815-6100 dzacks@zacksresolution.com or you can call Henning directly at (770) 955-2252.  You can also access my availability calendar and submit requests for mediations at www.henningmediation.com or www.zacksresolution.com. I will keep you updated through my eNotes and welcome the opportunity to speak with you anytime about my new situation!


David Zacks, President
Zacks Resolution, llc
DZacks@ZacksResolution.com  
P.S. On Thursday, September 17, 2015, I am looking forward to speaking at the Drake Bankruptcy Inn of Court in Augusta on "Should You Consider Mediation in Bankruptcy Cases?"

On Friday, September 18, 2015, I will be offering a free, one-hour CLE at Henning Mediation at 8:30 a.m. on "Sticky Issues." It is approved by the Georgia Bar Association and participants will receive a one-hour CLE credit and one-hour Professionalism credit.